---
---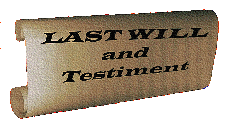 Précis and commentary of the Will of

Sir Thomas LITTLETON

of Frankley, Staffordshire
Dated, but not signed, 20 December 1649
Overview
The will of Sir Thomas Littleton is unusual as few beneficiaries, including his immediate family, are mentioned. Whilst certain farms are listed, there is no great detail of his property or indication of his general wealth. The care of his soul appears to be more important, being spread over the first thirteen lines.
---
Précis
His wife, Catherine, is not mentioned by name. She receives the:
household cattle and chattels, plate and household stuff, being all the moveable property;
sum of £500 (equivalent to £41,777 at Bank of England Retail Price Index 2010 (BofERPI));
additional £150 (£12,532 BofERPI) that Thomas borrowed and gave a promissory note. This was to be taken from his 'lands that had not been promised to others';
promise that she should not be liable for Thomas' debts.
Of his children, only three are named:
Henry, his eldest son, received all Sir Thomas' armour and books, but no money;
Sherrington Talbot, William Bromley and William Mutklow were to permit and suffer Charles an annuity of £25 (£2088 BofERPI) to his own use. However, it appears that Charles cannot off- set this annuity against other loans.
Ferdinando, whose name was discovered in the will, receives the funds from the untranscribable lands (Liytond) in Arley, but only seven days after the death of John Southall (a tenant?). There were conditions written in 17th century legal language. Sherrington Talbot, William Bromley and William Mutklow or their assignees were to administer the lease in trust for 99 years as they believed Sir Thomas would have wished. Ferdinando was entitled to collect and enjoy the rents provided that he paid the rent reserve: the rent that the lease states is to be paid and any 'service charges'. He could not sell or give away his interest (financial or title?) on the estate. However, should Ferdinando keep to himself the full value, over and above the rent, the administrators of the trust had to surrender the lease to Sir Thomas' heirs.
It is know that six of Thomas' sons died before their father. Neither William or Arthur nor their four sisters, including Catherine, are mentioned. Some of his daughters may have preceded him.
Gifts are given to near relatives. To his:
beloved nephew John Tracy, and son of his sister Bridget, his ruby ring, using wording suggesting a special relationship;
beloved brother-in-law, husband of Thomas's sister Jane, Sherrington Talbot, £20 (£1671 BofERPI);
beloved kinsman William Matklow £20 (£1671 BofERPI);
well beloved kinsman William Bromley received £5 (£418 BofERPI) related to an indenture date of 19 October 1648;
Sir William Leighton, who may have been Sherrington Talbot's grandfather, received Thomas' black sword; No real connection has been found between Sir William and Sir Thomas to justify this gift;
Sherrington Talbot, William Bromley and William Mutklow received £25 (£2081 BofERPI) (between the three or individually?) from the rent on Moat Farm, now believed to be Pickards Farm.
Sir Thomas records more philanthropic gifts than family gifts:
The servants who attend his bedchamber at the time of his death could choose any apparel thought fit by his wife and son Henry.
All those who had been household servants for more than six months received 40 shillings /£2 (£167 BofERPI).
Mr William Mos(s) received £5 (£418 BofERPI) to aid with his attentiveness and readiness preparations for the Ministry;
The poor of an untranscribable parish (Laley) received £10 (£835 BofERPI) and a further 5 marks to the poor of another untranscribable parish (Lagled), both presumably near Upper Arley, to be disposed of as Catherine thought fit;
1600will1649précis, sheet 2
John Southall retained his lands until his death;
The lease for Moat Farm, now believed to be Pickards Farm, currently held by William Bibb, was to pass to his children Edward and Joyce who received an annuity that was to be employed and disposed of in a manner that Sir Thomas would have approved.
The naming of Executors is complex. Though Sherrington Talbot, William Bromley and William Mutklow's names are mentioned five times in the course of the will, Thomas' wife, Dame Catherine, was the sole Executor. However, Sharrington Talbot, William Mutklow Esq, and John Tracy were also to over see the will. On this occasion, though mentioned on three occasions William Bromley's name was omitted.
The will was dated 20 December 1649, but not signed.
---
---
---