Back to Wills and Obituary list
---
---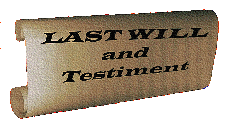 The Will of
ROBERT CROMPTON
of Ruston in the County of York Gentleman
Dated 1674
Gives unto his brother Walter Crompton his father Hutton and cozen Robert Bucks and their heirs All his lands in Moorsome and Hinderwell in the County of York to sell for payment of his debts and the remains after payment of debts he gives to his daughter Ceziah and Mary towards part of their portions.
Gives unto his said Daughters and their heirs all his lands and tenements commonly called Emmotts Lands in North Frodingham Co: York.
Gives unto his beloved wife his Mannor of Ruston [Parva] and all lands & hereditaments in Ruston and Lowthorpp and all his grounds called Kelke Leeses for life and after Wife's decease gives the same to his son Robert & his heirs & in default of issue to the heirs of his (Testators) own body & in default of issue to his Brother Walter and sister Jeggons & their heirs & in default of issue to his own (Testators) right heirs for ever
Wills that said Wife shall not Release unto his sonne Robert all her Right and title unto the Manor of Sledmar [Sledmere?] in the County of York and the lands and tenements in Sledmar Also to his Daughters all his rights & titles in Emmotts - only.
Guardians of said sonne Wife during Widowhood said brother Walter said Father Hutton & Cozen Robert Bucks until he attains 21 yrs
Guardians of Daughters Wife during Widowhood his sister Jeggons & his Cozen Bucke Wife until they attain 17 years
Gives Sister Milcha Crompton £20
Gives to his very good friend Mr Durand Hotham his father Hutton & his sister Jeggon his niece Crompton of Driffield & his Cozen Bucke Wife £5 a piece to buy Rings for a Memorial of him.
Gives his Sister Margaret Hutton £5.
Residue to sd Wife and two Daughters
Executors his father Hutton & Cozen Buck to administer on behalfe of Wife & two Daughters
Date 8 April 1674
Witnesses Robert Buck, William Buck William Jennings Edward Darley

Probate granted 26 June 1674 to Ann Crompton Widow the Relict

Memorandum that after publication Testator made following alterations & additions
Revokes £20 given to Sister Crompton of Bridlington Key & in lieu thereof gives her son Charles Crompton & daughter Anne £20 a piece
Makes sister Margaret's legacy £20
Gives three Broad piece to his good friend Mr Thomas Langley
Gives three Broad pieces to Mr Durand Hotham
Gives his brother Walter Crompton his young stones horse
Gives his nephew Robert Jeggons £20 instead of Legacy given his mother

Rest of will to stand in full force
---
A paper transcribed for Mary Agnes Crompton, circa 1912, by a professional genealogist.
---
---