1600 Info 4 for the Cromptons of the Stuart Period
Dame Catherine Crompton and her husband Sir Thomas Littleton
---
---
Catherine Crompton, the only daughter and heir of Sir Thomas Crompton and granddaughter of Thomas 'Auditor' Crompton married into the Littleton family, who also had intriguing connections with the Essex rebellion. Strongly royalist at the time of the Civil War, variously imprisoned during the interregnum, they were rewarded at the Restoration. Two of their children rose to prominence under royal patronage.
The Littleton name and arms
Various authors, throughout the collection of this information, have various spellings of the family name. The 1481 Worcester Cathedral tomb of Judge John records his name as Litleton. On Thomas' Worcester memorial, it is Lyttelton. Lyttleton and Littelton have also been used. For the sake of clarity, the modern spelling of Littleton has been used throughout.

The name of Sir Thomas' wife has been spelt as Catherine and Katherine. In this instance the C spelling, found on her memorial, has been used.
Sir Thomas Littleton (1595/6–22 February 1650) [1] was the first baronet of Frankley, Worcestershire: a mercenary adventurer, a royalist army officer and politician with financial responsibilities in Worcestershire. He was the eldest son of John Littleton MP (1561–1601) of Hagley, Worcestershire, and Muriel (Meriel), who died in 1630, the daughter of Sir Thomas Bromley, Lord Chancellor of England, of Rodd Castle and Hodnet, near Oswestry, Shropshire.
From his mother he inherited the family estates in Frankley, Halesowen, Hagley, and Upper Arley, However, after Thomas' father was implicated in Essex's rising of February 1601 and convicted of high treason, the estates were forfeited. John Littleton died in prison. The estates were later restored to Meriel, by James I.
Thomas was baptised on 10 December 1595. He matriculated [2] at Balliol College, Oxford, on 22 June 1610 aged 14, but was a member of Broadgates Hall [3] when he supplicated [4] for the BA degree on 02 July 1614. In 1613, Thomas became a student of the Inner Temple.
On 22 November 1617 he married Catherine, the only child and heir of Sir Thomas Crompton of Driffield, Yorkshire, and Hounslow, Middlesex; they had twelve sons (six decessit vita patris – died in the lifetime of their father) and four daughters. She died in 1666. It is interesting to speculate that Sir Thomas Littleton met Catherine Crompton through their father's involvement in Essex's rising: [5] both families being fined £4000 (Equivalent to £572, 502 Bank of England Retail Price Index in 2010 (BofERPI)) by Elizabeth I.
After succeeding his father in 1601 Thomas travelled abroad in France, Spanish Netherlands, United Provinces [the Republic of the Seven United Netherlands] between1615-16. On 25 July 1618, he was created a baronet and was knighted in Whitehall 09 November 1618 [6] aged 25.
1 Unless otherwise stated Sir Thomas' biography is taken from: Coates Ben, The History of Parliament (Accessed 13 March 2020), where individual facts are referenced
2 Matriculated - admitted by enrolment - Oxford English Dictionary (OED)
3 Since the fifteenth century, a University hostel for law students that was the basis of Pembroke College in 1624 - Wikipedia
4 Supplicated – solicited, asked or begged for – OED
5 The Crompton involvement in the Essex rebellion
6 Foster's Oxford University Alumni records Thomas was knighted July 1618

1600info4, sheet 2
Sir Thomas also had homes in St. Martin's Lane, Westminster and the Inner Temple, London; later at Hagley, Worcestershire and Westbury, Buckinghamshire.
He died at Newcastle House, Clerkenwell, Middlesex [7] on 22 February 1650 and was buried in Worcester Cathedral, where there is a monument to him. His will, dated 20 December 1649, was proved on 21 March 1650. [8]
| | | |
| --- | --- | --- |
| | | |
| Above: The detail on the Littleton memorial in Worcester Cathedral | | Above: The Littleton memorial in Worcester Cathedral |

Above: The tomb of Judge Thomas de Littleton, Worcester, dated 1481
7 Oxford Dictionary of National Biography (Accessed 13 March 2020)
8 The National Archives (TNA): PROB 11/211/714
1600info4, sheet 3
Offices Held
1621–2 Member of Parliament for Worcestershire and 1624–5, 1625, 1626, and April–May 1640 and Leominster circa March 1628.
1621-2 Gentleman volunteer Netherlands.
1622 Commissioner of arbitration: Sir Samuel Sandys (also MP Worcester 1615-1624) v. tenants of Ombersley, Worcestershire.
1624 Subsidy of Worcestershire, and Buckinghamshire 1641, 1642.[9]
1624-at least 1625 Captain of foot Netherlands.
1626 Marshal, Christmas feast, Inner Temple, and 1628, 1637, 1640, 1641.
1626-7 Forced Loan, Worcestershire.[10]
1627 Ile de Ré expedition.[11]
1628 Levy Crown debts, Southern and Midland counties and Wales.
1630-42 Oyer and terminer, Oxford circuit. [12]
1630 Sewers, Staffordshire.[13]
1640 High Sheriff for Worcestershire.
1641 Justice of the Peace Shropshire and Worcestershire.
1642 Commissioner array for Worcester and Worcestershire.
1642 Royalist Colonel of Worcestershire Militia horse and foot; raising royalist volunteers, Worcestershire.
1642-44 Governor (Royalist) Bewdley, Worcestershire.
1644 Commissioner accounts (Royalist) Worcestershire and Staffordshire 1644-5.
Thomas Littleton's early life and his time in Parliament
Thomas Littleton was descended from the fifteenth-century jurist Thomas de Littleton, famed for his treatise on Tenures (the law of property), who has been called 'The Father of our English Laws'. The family owed its prominence in Worcestershire to Thomas Littleton's great- grandfather, Sir John Littleton, who consolidated his estates into a highly profitable block of lands around Frankley, in the north of the county. Thomas Littleton's father, also John Littleton, was returned for Worcestershire three times under Elizabeth I.
Thomas' mother did not share her husband's Catholic sympathies and brought up her children as Protestants.
In 1601, John Littleton was involved with the Earl of Essex in a rebellion, only two years after his father's death and his inheritance of the estates. This so called rebellion, which does not seem to have got beyond the protest meeting stage, ended with many of the plotters being condemned, imprisoned and executed. John beat the executioner by dying in prison. Queen Elizabeth I seized the estates and it was only at her death in 1603 that matters were rectified.
The family fortunes were restored under his mother's careful stewardship. On 17 June 1603 [14] Meriel met the new King James I at Doncaster, en route from Edinburgh to London, and successfully pleaded with him for the return of the manors of Hagley, Cradley, Oldswinford and others in Shropshire and Staffordshire.[15] She paid off £20,000 (£2,110,144 BofERPI) of debts and only sold land to the value of £8,854 (£934161 BofERPI). A remarkable achievement by any standards but when compared with today's values, even more remarkable.[16] Sir Thomas' children were 'restored in blood' the same year. [17]
9 Subsidy - a tax levied on imports and exports, the income from which was granted by parliament to the sovereign to meet particular needs – OED
10 Forced loan - The Parliament of 1626 had not voted any taxation and Charles I desperately needed money. He decided to demand directly from his people what their representatives in parliament had refused to grant, and in July 1626 sent letters to the JPs telling his subjects "lovingly, freely, and voluntarily" to give him money. Throughout July and August, the vast majority of Charles's subjects refused to pay. - Wikipedia
11 Ile de Ré expedition 1627 - An English invasion force under the command of George Villiers, Duke of Buckingham attacked the island, off the coast of Rochelle, in order to relieve the Siege of La Rochelle. After three months of combat in the Siege of Saint-Martin-de-Ré against the French under Marshal Toiras, the Duke was forced to withdraw in defeat. – Wikipedia
12 Oyer and terminer - commission authorizing a judge on circuit to hold courts (formerly only for the hearing of certain specified offences, such as treasons, felonies, etc).- OED
13 Sewers - a commission issued by the Lord Chancellor, appointing commissioners to administer a bankrupt's estate on behalf of the creditors - OED
14 Victoria County History (VCH): 'Hagley', A History of the County of Worcester: volume 3 (1913), pp. 130-136
15 Hagley Historical and Field Society
16 Dr.T.Nash - History of Worcestershire
17 VCH: 'Hagley', Op. Cit, pp. 130-136
1600info4, sheet 4
Thomas Littleton was excluded from most local offices during the 1620s, and may have sought election to Parliament to affirm his status. He was returned for Worcestershire's first seat in 1621, and attended a conference with the Lords to prepare a petition on recusancy (21 February 1621).[18] In 1624 Littleton was re-elected, but this time as junior knight of the shire. Again he is mentioned only once in the parliamentary records, on 06 March 1624, when he was appointed to the committee for the bill concerning the Council of the Marches.[19] After the Parliament, Littleton was appointed a captain in the 3rd Earl of Southampton's Regiment in the Netherlands, having probably served there previously as a volunteer. He was again returned as senior knight for Worcestershire in 1625, but never took his seat for in early June he went abroad, presumably back to his regiment. He had relinquished his command by July 1627.
There is no evidence that Littleton was active in the 1626 Parliament, but a bill was introduced to settle a jointure [20] on his wife, whose lands were sold in the 1620s. The bill received two readings and was committed, but proceeded no further. Littleton took part in the Ré expedition of 1627, returning to England as a messenger in October. There is no evidence that he sought re-election for Worcestershire in 1628, but was returned instead for Leominster after his brother-in-law and steward of his estates. He was returned for Worcestershire to the Short Parliament of 13 April to 05 May 1640 during the reign of Charles I. [21]
In 1639 Littleton purchased an estate at Westbury in Buckinghamshire. By 1640, his gross income totalled over £3,200 p.a. (£305,618 BofERPI)
Sir Thomas Littleton in the English Civil War of 1642-1651
During the Civil War of 1642-1651, Sir Thomas Littleton was lord of Frankley Manor.
On the outbreak of the Civil War, Littleton, an ardent Royalist, offered to raise a regiment of foot and a troop of horse for the King. Charles I consulted him at Shrewsbury in September 1642 about troop movements, and on 03 September 1642 appointed him colonel of the Worcestershire Horse and Foot, praising his 'approved fidelity, wisdom, valour and circumspection'.[22]
By the beginning of 1643, he was governor of Bewdley. The Borough was a staunch supporter of the King as the town had been established as a Royal Borough in 1472 and belonged to the crown.
Bewdley Hall, built by Henry VII for Prince Arthur's proxy wedding to Catherine of Aragon, was occupied by Royalist troops. However, the county's royalists lacked supplies and failed to overcome their neighbours' indifference. On 03 May 1644 Bewdley, poorly fortified, was taken by a parliamentary force of sixty, led by Colonel John 'Tinker' Fox, masquerading as stragglers from Prince Rupert's army. Approaching Bewdley at night, Fox gained access to the town and took Sir Thomas prisoner in bed at Tickenhill along with forty royalist soldiers. He was sent to the Tower of London, and although Earl Essex (son of the Essex involved forty years before with John Littleton) arranged to stand bail for Sir Thomas, he was recommitted on 29 November 1644, by a parliament fearful of his influence in Worcestershire. On 06 March 1645 parliament fined him £4000 (£382,022 BofERPI) for his delinquency, and he was still a prisoner in June 1646. However, the Tower does not appear to have been a healthy place as Sir Thomas died in 1650 at the age of 54.[23]
18 Recusancy - the practice, especially on the part of Roman Catholics, of dissension and non-attendance of the services of the Church of England – OED
19 Council of the Marches - The legislation which gave statutory recognition to the Council did not specify its role, but declared that the President and Council should have power to hear and determine "such Causes and Matters as be or heretofore hath been accustomed and used". However, its functions were interpreted widely. It was to hear all suits, civil and criminal, which were brought by individuals too poor to sue at common law; it was to try all cases of murder, felony, piracy, wrecking, and such crimes as were likely to disturb the peace; it was to investigate charges of misgovernment by officials and the false verdicts of juries; it was to enforce the laws against livery and maintenance, to punish rumour mongers and adulterers, and to deal with disputes concerning enclosures, villain service, and manorial questions; it heard appeals from the common law courts; and it was responsible for administering the legislation dealing with religion. – Wikipedia
20 Jointure - a sole estate limited to the wife - 'a competent livelihood of freehold for the wife of lands and tenements, effective upon the death of the husband for the life of the wife at least' (Coke upon Littleton, 36 b) – OED.
21 The Short Parliament. After 11 years of attempting Personal Rule (1629–40), Charles recalled Parliament in 1640 on the advice of Lord Wentworth, recently created Earl of Stafford. He was forced to call the Short Parliament primarily to obtain money to finance his military struggle with Scotland in the Bishops' Wars. Like its predecessors, the new parliament had greater interest in redressing perceived grievances occasioned by the royal administration than in voting the King funds to pursue his war against the Scottish Covenanters - Wikipedia
22 Townshend's Diary: Diary of Henry Townshend, 2.86 (Worcs. Rec. Soc.)
23 Oxford Dictionary of National Biography (Accessed 13 March 2020)
1600info4, sheet 5
The children of Thomas and Catherine
Two of Thomas and Catherine's sons sat in Parliament after the Restoration.
Sir Henry Littleton c.1624-93 of Hagley Hall, Worcestershire and Upper Arley, Staffordshire, who was the fifth but first surviving son of Sir Thomas
Sir Charles Littleton c.1629-1716, who was the seventh but second surviving son of Sir Thomas.
The first and fourth son had drowned at Oxford and the second and third had died young.
Captain William is mentioned on the Arley monument
Ferdinando is mentioned in Sir Thomas' will.
Sir Henry Littleton [24]
Sir Henry Littleton, second baronet (1623–24 June 1693) and brother of Sir Charles Littleton, succeeded to the baronetcy on his father's death on 22 February 1650. He matriculated on 12 September 1640, aged 16, at Balliol College, Oxford.[25]
His first marriage was to Philadelphia, who died 02 August 1663, daughter of the Hon. Thomas Carey, groom of the bedchamber to Charles I. She was maid of honour to Queen Catherine of Braganza. Secondly, he married, on 02 November 1665, at Wroxeter, Shropshire, Lady Elizabeth Newport, who died 7 March 1724. She was the daughter of Francis Newport, first earl of Bradford. Lady Elizabeth, when widowed, married Edward Harvey. There was no issue from either marriage.
Offices Held [26]
1654-5 High Sheriff, Worcestershire.
1654-5 and July 1660-1693 JP for Worcestershire, July 1660-June 1688 and September 1688-1693 Shropshire.
1660 July Commoner for oyer and terminer, Oxford circuit.
1660 August -80 Assessment, Worcestershire, 1673-80 Shropshire, 1679-80 Lichfield, 1689-90 Shropshire, Staffordshire and Worcestershire.
1661-1689 Deputy Lieutenant Worcestershire, 1677-February 1688 Staffordshire.
1661 Captain Volunteer horse, Worcestershire.
1662 Commoner for loyal and indigent officers.
1673 Made inquiries about the MP vacancy at Bewdley.
1675 Recusants, Shropshire and Worcestershire.
1678 21 February to 1678-9 January MP for Lichfield.
1679-9 March to1679 July MP for Lichfield.[27]
1683 Freeman, Worcester.
1685-1693 Alderman, Bewdley.[28]
Described, on 16 August 1664, by his brother Charles as 'dry, illiberal' and ' troubled with his fits of the spleen' Littleton refused in 1661 both a peerage and an invitation to stand as MP for Worcestershire. He preferred to live on his Upper Arley property, where the product of his vineyards was pronounced 'altogether indistinguishable from the best French wines by the most judicious palates'.
A royalist politician and soldier, he was taken prisoner on 3 September 1651 at the battle of Worcester, and was imprisoned in the Tower until April 1653 on a charge of providing arms without licence to the Scottish army, but was finally released, since there was only 'one witness against him'. [29]
24 Unless otherwise referenced Henry Littleton's details are from the Oxford Dictionary of National Biography (Accessed 13 March 2020)
25 Foster's Oxford University Alumni, page 53
26 Mimardière, A. M., History of Parliament (Accessed 13 March 2020)
27 Foster's Op. cit. Townshend's Diary Op. Cit., iii. 276; SP29/21/48; Hatton Corresp. (Cam. Soc. n.s. xxii), 23; CSP Dom. 1685, p. 138
28 Townshend's Diary, Op. Cit., iii. 276; SP29/21/48; Hatton Corresp. (Cam. Soc. n.s. xxii), 23; CSP Dom. 1685, p. 138
28 VCH: 'Hagley', Op. Cit., pp. 130-133
29 VCH: 'Hagley', Op. Cit., pp. 130-133
1600info4, sheet 6
On his release Littleton joined a party of royalist conspirators in the Midlands, and, as High Sheriff of Worcestershire was able to purchase arms. Although he took no part in Penruddock's uprising [30] - he may have been deterred from this by the arrest of his brother Charles - he was implicated, with two of his brothers, in Booth's insurrection (1659) [31].
He was arrested for having a small arsenal of guns at Hagley. As High Sheriff of Worcestershire, he argued, they were needed to maintain law and order. As before, no one could be found to witness against him. His two servants who were in the rising and one Wright, a schoolmaster of Halesowen, who could have done so, had disappeared. [32] Unfortunately, his argument was not accepted and he spent a further two years in the Tower. [33] Here he was treated with great respect, remaining until the Restoration. Charles II wrote to him from Brussels, full of appreciation for his sacrifices and promising future rewards:
I am very well informed how much and how often you have suffered for me, and how much I am beholden to all your relations; and you may be very sure I have the sense of it that I ought to have, of which you shall one day have evidence. In the meantime, cherish your health, and prepare for better times that we shall enjoy together. [34]
At the Restoration, Littleton served on the grand jury that found a true bill against the regicides, and was granted the East India Company shares held by Robert Tichborne, which he sold for £3,000 (£273,308 BofERPI). [35] At a by-election on 21 February
1678 he became 'at vast expense' MP for Lichfield where his sisters lived, but he served on no committees and made no speeches.

Shaftesbury again marked him 'worthy'. He retained his seat, probably unopposed, between March and July 1679 but was totally inactive in parliament, even being absent at the division on the Exclusion Bill [36]. His brother reported that:

'he might have been knight of the shire for Worcestershire with less charge, I imagine. But my Lord Windsor seemed to oppose him for Sir Francis Russell. Since, Sir Francis refusing to stand, my Lord would have had my brother; he then, being so far engaged for Lichfield, would not quit them.' [37]

Left: Sir Henry Littleton's arms on his monument in St Peter's Church, Upper Arley - August 2013
30 The Penruddock uprising was one of a Royalist Sealed Knot coordinated uprisings to start in March 1655 during the Protectorate of Oliver Cromwell. On 11 March, Penruddock, with between 300 and 400 other Cavaliers, raised the Royal standard Salisbury [but was defeated on 14 March and beheaded in May 1655]. - Wikipedia
31 In May 1659, the Rump Parliament […] was generally regarded as more radical than the Protectorate had been and Booth was active in demanding the re-admittance to Parliament of the Presbyterian MPs who had been expelled at Pride's Purge in 1648. When these demands were rejected, he became involved in a conspiracy for a Royalist insurrection and was commissioned by the Great Trust to lead the insurgency in Cheshire, Lancashire and north Wales. Out of a series of insurrections around the country planned for the summer of 1659, Booth's Uprising was the only one that came to fruition. Although the insurgents succeeded in seizing Chester, they were easily defeated by Major-General Lambert at Winnington Bridge near Northwich on 19 August 1659. Booth tried to escape disguised as a woman, but was arrested and imprisoned in the Tower of London. He was released on bail in February 1660 after the excluded MPs were reinstated by General Monck. British Civil War Projects (Accessed 13 March 2020)
32 VCH: 'Hagley', Op. cit., pp. 130-136
33 Hagley Historical and Field Society: Op. cit.
34 Mimardière: Op. cit. - Cal. Comm. Comp. 750, 2898-9; D. Underdown, Royalist Conspiracy, 130; Cal. Cl. SP, iv. 350; Nash, i. 499
35 Mimardière: Op. cit. - State Trials, v. 987; Townshend's Diary, i. 292; Cal. Ct. Mins. E.I. Co. ed. Sainsbury, vi. 27, 85, 104, 108-9, 360, 371
36 The Exclusion Crisis ran from 1678 through 1681 in the reign of Charles II of England. The Exclusion Bill sought to exclude the king's brother and heir presumptive, James, Duke of York, from the thrones of England, Scotland and Ireland because he was Roman Catholic.
37 Mimardière: Op. cit.
1600info4, sheet 7
He gave unconditional consent to the three questions on the Penal Laws as put to him by the Lord Lieutenant of Worcestershire, where he was living at the time, but refused to stand as court candidate there because 'his intent lay in another county'. In 1681 he refused all further invitations to stand as MP for Worcestershire or Lichfield. [38]
In August 1683 he reported on the suspicious purchase of 12 cannon by two tenants named Philip and Thomas Foley; but a government expert found that they were worn out and fit only for scrap.
He was a JP for Worcestershire and Shropshire, deputy lieutenant for Worcestershire and Staffordshire, a freeman of Worcester and an alderman of Bewdley under the new charter, no doubt to facilitate the election of his brother Charles.
Arley Hall seems to have been the centre of activity for Sir Henry until his death at the age of 69. [39] He died, without children, at Upper Arley on 24 June 1693, and was buried in the local church, where a monument to his memory was erected. His brother Charles Littleton (1629–1716) succeeded in the baronetcy.
In the vestry beneath is interred the body of S r/
HENRY LYTTELTON barronet of Frankley in the/
County of WORCESTER who died ye 24th of Iune/
1693 Aged 69 years he was firft Married to Mrs /
PHILADELPHIA CARY one of the Daughters & coheires/
of Mr THOMAS CARY son of ye Earle of Monmouth &/
after her death to ye Honble Mrs ELIZABETH NEWPORT/
Daughter of FRANCIS Ld /Vct\ NEWPORT of Shropfhire to/
whose memory this monument is erected by his Brother/
and heire Sr CHARLES LYTTELTON Kt and Barronet/

In ye chancel of this church lyes Alfo buried his Brother/
Captain WILLIAM LYTTELTON and his belloved nephew HENRY/
LYTTELTON eldest son of Sr CHARLES LYTTELTON

Right: Henry Littleton's memorial in St Peter's Church, Upper Arley - August 2013
38 Mimardière: Op. cit. - Hatton Corresp. 174; HMC Dartmouth, i. 56; CSP Dom. July-Sept. 1683, pp. 318, 332, 382
39 Hagley Historical and Field Society: Op. cit.
1600info4, sheet 8
Sir Charles Littleton, third baronet (1629–1716), [40] soldier, colonial governor and politician, was born in Frankley, Worcestershire, a younger son of Sir Thomas Littleton and brother of Sir Henry Littleton. He matriculated to Christ Church, Oxford on 26 May 1699, aged 14 [41].
He married: (1) Catherine, who died 26 January 1663, daughter of Sir William Fairfax of Steeton, Yorks., widow of Martin Lister of Thornton, Yorks. There was one son who died before his father; (2) by licence on 23 May 1666, aged 36, to Anne, daughter and coheiress of Thomas Temple of Frankton, Warwickshire, maid of honour to Queen Catherine of Braganza. There were five sons, four of who died before their father, and eight daughters.
Charles was knighted circa April 1662 and succeeded brother as third Baronet 24 June 1693. [42]
Offices Held [43]

1648 Royalist Lieutenant
1650-1655, May 1660-75 Cup-bearer
1662-4 Lieutenant-Governor of Jamaica
1664-5 Major of Fleet, Admiralty Regiment (Royal Marines)
1665-8 Lieutenant Colonel, 1668, 1673-85 Colonel of Duke of York's Foot, 1685- 9 Prince George's Foot, 1688 November Brigadier
1667-72, 1673-80 Governor Harwich and Landguard Fort, 1680-90 Sheerness [44]
1664-6, 1668 Assistant R. Adventurers into Africa
1671 Freeman of Harwich
1672-4 Sub-commoner for prizes
1677-9 Commoner for assessment, Harwich1689 Surrey
1682-1689 Joint agent for Jamaica [45]
1682-1689 Deputy Lieutenant Kent
1685 MP for Bewdley
1685-1706 Alderman of Bewdley
1688-9 February Justice of the Peace for Kent, July 1688-9, 1700-1716 Worcestershire. [46]

Above: Sir Charles Littleton attributed to John Closterman c.1690
As a member of a substantial county family, […] Littleton committed himself wholeheartedly to the royalist cause; too young to fight in the Civil War he served in the royalist forces at the siege of Colchester in 1648, and after their defeat escaped to France, where in 1650 he was appointed cupbearer to the exiled Charles II. He appears to have served as a messenger between the King and his English supporters during the late 1650s. But, by 1655 he was back in England and imprisoned in the Gatehouse [of Westminster Abbey]. Hence he was unable to take part in Penruddock's rising, but in August 1659 he and his brothers made an unsuccessful attempt on Shrewsbury, after which he attended the King in France. [47] After the Restoration Charles II recognized his services by giving him £500 (£41,774 BofERPI). He was knighted in 1662, shortly before sailing for Jamaica where Littleton was to serve as lieutenant-governor to Thomas Windsor, seventh Baron Windsor. In the course of the voyage, Catherine, whom he had married in 1661, gave birth to the couple's first child, a son, but neither mother nor infant survived for long; both died in January 1663 and were interred in the cathedral at Spanish Town, Jamaica.
By that time Littleton had succeeded to the governorship of Jamaica, Windsor having turned the office over to him on 20 October 1662, a mere ten weeks after the two men's arrival on the island. Littleton immediately began to develop a full civil government for encouraging English settlement of the colony, which England had acquired from Spain in 1655.
40 Unless otherwise stated Oxford Dictionary of National Biography (Accessed 13 March 2020)
41 Foster's Op. cit.
42 Ferris, John. P. – The History of Parliament; Clay, Dugdale's Vis. Yorks. ii. 136; CSP Col. 1661-8, pp. 83, 106; Nash, Worcestershire. i. 493; (Accessed 13 March 2020)
43 Ferris, Op. cit.
44 Ferris, Op. cit. - CSP Dom. 1672-3, p. 263; 1679-80, pp. 128, 380; Hatton Corresp. (Cam. Soc. n.s. xxiii), 100, 157
45 Ferris, Op. cit. - Cal. Cl. SP, ii. 84; CSP Dom. 1675-6, p. 4; CSP Col. 1681-5, p. 308.
46 Ferris, Op. cit. - S. Dale, Harwich and Dovercourt, 224; CSP Dom. 1671-2, p. 484; 1682, p. 527; 1685, p. 138; Univ. Birmingham Hist. Jnl. i. 112, 113, 126
47 Ferris, Op. cit.

1600info4, sheet 9
Sir Charles created an island assembly, a body which was 'fairly and indifferently drawn by the votes of all the inhabitants', and which was responsible for the colony's financial and legal needs. The assembly passed legislation regarding taxation, hunting, and planting, and set up religious and judicial authorities throughout the island, creating an infrastructure upon which the following decades' prosperity was based. Littleton also made Jamaica's internal and external security a priority, granting letters of marque [48] to English privateers, with the intent that they serve as a striking force against potential Spanish and Dutch attacks. He entered into negotiations with the Maroons, African slaves who had run away from Spanish plantations and frequently attacked English settlements, granting them landholdings and promising them 'the same state and freedom as the English enjoy' provided that they cease their raids. […] The threat they posed diminished sufficiently for planters to become more willing to settle in remote areas of the island. Littleton's other activities as governor included establishing a town and fortifications at Port Royal, erecting Fort Charles, and repairing St Katherine's Church, in Spanish Town.
In Littleton's opinion, the English settlers were 'generally easy to be governed, yet rather by persuasion then severity' [49], and local residents asserted that under his administration Jamaica was peaceful, healthy, and prosperous. None the less, on 13 February 1664 the King recalled Littleton and issued a warrant for Sir Thomas Modyford to assume the office of governor.
On 2 May 1664 Littleton sailed for England and became a professional soldier receiving a commission as major and subsequently lieutenant-colonel of the Lord Admiral's Regiment, precursor to the Royal Marines. He served as governor of Harwich and Landguard Fort [50] from 1667 until 1672, being a 'very industrious in his own person' in building fortifications at Harwich, and soon came to be regarded by the corporation as a friend at Court.
He served aboard the fleet in 1673 and commanded the English forces at Bruges in 1678. At the dissolution of the Cavalier Parliament (8 May 1661 until 24 January 1679) he described himself as 'trying to creep in at Harwich'; but the Admiralty had other ideas. Littleton was transferred to Sheerness early in 1680, and, on the death of Francis Barrell, Sir Francis Clerke was confident that Littleton would succeed him as Member for Rochester, but the writ was never issued. [51]
After 1682 he and Sir William Beeston acceded to the request of the governor and council of Jamaica that they serve as the London agents for the colony. On 12 May 1685 he entered parliament as member for Bewdley, Worcestershire, (1685-89) a seat he retained until the Glorious Revolution of 1688, at which time he resigned all of his appointments rather than subscribe to the oaths mandated by William and Mary.
He served King James to the last, even after his eldest son had gone over to William, and his regiment was deemed so hostile to the new regime that it was disbanded in February 1689, Littleton declaring himself 'quite weary of serving any longer, and very willing to resign'. Nevertheless he took the oaths as governor of Sheerness, where he remained till July 1690. He surrendered his commission at the sacrifice of £500-£600 (£47,753-£57,303 BofERPI) a year on the grounds that his business would not permit the constant attendance required in wartime, but really because (as he said): 'I began to find myself pressed to sign an address of renouncing my late master, which (however I had sufficiently done in effect) would have been so odious an ingratitude I despised any advantage to oblige me to'. The confession of Lord Preston [52] (Sir Richard Grahme) in the following year implicated Littleton, whilst governor, in correspondence with St. Germains, but no action was taken against him till 1696. He seems to have been soon released, and by the end of the reign he was on the Worcestershire commission of the peace. [53]
48 A letter of marque and reprisal was a government license authorizing a privateer to attack and capture enemy vessels and bring them before admiralty courts for condemnation and sale. Cruising for prizes with a letter of marque was considered an honourable calling combining patriotism and profit, in contrast to unlicensed piracy.
49 Cundall, The Governors of Jamaica, 19
50 Landguard Fort - built just outside Felixstowe, Suffolk, at the mouth of the River Orwell, Landguard Fort was designed to guard the entrance to Harwich. The first fortifications from 1540 were a few earthworks and blockhouse, but it was James I of England who ordered the construction of a square fort with bulwarks at each corner - Wikipedia
51 Ferris, Op. cit. - CSP Dom. 1655, p. 575; 1661-2, p. 178; 1667, p. 16; 1668- 9, p. 271; 1678, p. 131; 1679-80, p. 380; 1680-1, p. 68; 1687-9, p. 275; Cal. Cl. SP. iv. 236, 312-13, 350, 389, 396, 460; Williamson Letters (Cam. Soc. n.s. viii), 36; Hatton Corresp. (Cam. Soc. n.s. xxii), 171; Luttrell, i. 246.
52 On 01 January 1691 Preston and others were seized whilst holding a treasonable package. On 16 January 1691 Preston was charged with high treason, but on 13 June he was pardon after making several confession naming other implicated.
53 Ferris, Op. cit. - Hatton Corresp. (Cam. Soc. n.s. xxiii), 60, 130, 157, 222, 223; Evelyn Diary, iv. 575-6; Nash, i. 501; HMC Finch, iii. 342.
1600info4, sheet 10
In 1693 Littleton's elder brother Henry died, allowing him to succeed to the family's title and estates. At this time Littleton, his second wife Anne Temple, who died in 1718, and the [thirteen children of the two marriages] 54 settled at Hagley, Worcestershire, where Littleton spent the remainder of his life. He died at Hagley on 2 May 1716 aged 87, and was buried with Anne in the vault at Over [Upper]-Arley, Staffordshire. His only surviving son, Sir Thomas (1686-1751) sat for the county as a Whig from 1721 to 1734.

Right: Sir Charles Littleton's simple and 'humble' memorial in the Lady Chapel of St Peter's Church, Upper Arley - August 2013

Below: Sir Charles' inscription in detail and transcription
In Memory of/
Sr Charles Lyttelton Knight/
& Bart.t who departed this life/
the 2d of May 1716 in the 87th/
Year of his Age.

This humble Monument was/
Set up by his particular &/
Exprefs direction in his laft/
Will.

Left: Sir Charles Littleton's memorial at St Peter's Church Upper Arley - August 2013
54 Hagley Historical and Field Society: Op. cit.
1600info4, sheet 11
The Littleton estates
Frankley Manor
The village of Frankley […] is very small and consists of the church, a farm called Westminster Farm, and a few cottages.
The site of the old manor-house lies to the west of the church. It was formerly the chief seat of the Littleton family, but during the Civil War was occupied by Prince Rupert, who, on leaving it [in 1642], burnt it to the ground to prevent its falling into the hands of [Parliamentarians]. In 1601 the house was described as 'a very fair brick house and in good repair, and hath large and sufficient barns, stables, and out houses.' The tower of the present church was built out of the ruins of Frankley Hall. [55]

Left: The remains of Frankley Manor in 1883, showing the moated area and extensive fish ponds
Above: An aerial view of Frankley Manor in 2010 showing both the position of the wet moat and the out line of the dry moat that surrounded the house. Frankley Church is located bottom in the right corner
55 Victoria County History (VCH): 'Frankley', A History of the County of Worcester: volume 3 (1913) , pp. 120-123 (Accessed 13 March 2020)
1600info4, sheet 12
Hoverbox Photo Gallery - Frankley Manor moat, Author: August 2013
This feature does not function correctly on phones and tablets
| | | |
| --- | --- | --- |
| 1. Showing the house site on the left | 2. From the road | 3. Across the field |
Above: Frankley Manor panorama showing the building platform
Above: Frankley Church manorial carving, taken from the Manor house, found by the boiler house steps
Left: Frankley Church
1600info4, sheet 13
Today, close to Frankley church, part of the large moat is still filled with water and significant earthworks (75m x 47m) point to a manorial building of some size and status. [56]

Right: Ordnance Survey map locating Frankley Manor in 2013
56 Dargue, William, A History of Birmingham Churches - Frankley (Accessed 13 March 2020)
1600info4, sheet 14
Hagley Hall
From […] Sir John Littleton, Hagley passed in 1590 to his son Gilbert, who was succeeded in 1599 by his son John. […] concerned in Essex's plot. After John Littleton's death a survey was taken of Hagley and his other property. There was at Hagley a fishpool called ' Brodford Poole, lately broken by flood,' and a rabbit warren on 'Hagley Brak.' [57]
The old hall at Hagley which is described in 1601 as 'a convenient house built for the most part of wood,' was the scene of the capture of Stephen Littleton and Robert Winter, two of the conspirators in the Gunpowder Plot. They had escaped from Holbeach House, and, after wandering about the country for some time, came to Hagley, where a man called Peck concealed them in his house. During the absence of Mrs. Littleton they were taken to Hagley Hall, where they were betrayed by one of the servants. [58]

Left: Old Hagley Hall - Hagley Historical and Field Society
In the reign of William III, […] Sir Charles [Littleton] is believed to have carried out some modernization on the old hall, and its north-east corner at the end of the seventeenth century, and to have "re-imparked" the park in 1694. Both these events would be at the time that he inherited the baronetcy and suggest his preference for Hagley rather than Arley. However, when he died in 1716, he was buried at Arley, as indeed his brother had been. [59] However, Hagley was taken down in 1760, when the present hall was built by George first Lord Littleton. [60]

Right: Map locating modern Hagley Hall OS ref: SO 922 806
57 VCH: 'Hagley', Op. Cit., pp. 130-136;
58 VCH: Hagley, Op. Cit., pp. 130-136
59 Hagley Historical and Field Society, Op. cit.
60 VCH: Hagley, Op. Cit., pp. 130-136
1600info4, sheet 15
Upper Arley and Dame Catherine Littleton
Arley came into the Littletons' possession when, in 1470, Joan one of the daughters of the then owner, Sir William Burley, married Judge Thomas Littleton (qv). [61] The widow Catherine moved from Hagley to Arley [62] and rebuilt the Manor House.
Hoverbox Photo Gallery - Upper Arley, Author: August 2013
This feature does not function correctly on phones and tablets
1. The exterior of St. Peter's Church
3. Inside St. Peter's Church
2. A pen and ink of Arley Manor dated 1844 -
Source: St Peter's Church
The memorial to Sir Charles Littleton is located in the Lady Chapel through the left arch. On the south wall of the nave is a mural monument to Sir Henry Littleton, bart., who died 24 June 1693. The monument also record: the burials of Captain William Littleton, brother of the above, and his nephew Henry son of Sir Charles Littleton. [63]

Left: St Peter's Church, Arley, date and artist unknown Source: Arley Church
In 1913 the only ancient feature remaining was the south wing of the Old Hall, formerly the dower house. It was a two-storied building, erected apparently in the latter part of the16th century, and enlarged in the reign of James I. [64]
Arley Hall was the centre of activity for Sir Henry, until his death at the age of 69. His vineyards produced light wines pronounced indistinguishable from those of France. [65] Charles preferred to live on his estates at Upper Arley.
61 Hagley Historical and Field Society – Op. cit.
62 Upper Arley Staffordshire now Worcestershire DY12
63 VCH: 'Upper Arley', A History of the County of Worcester: volume 3 (1913) , pp. 5-10 (Accessed 13 March 2020)
64 VCH: 'Upper Arley', Op. Cit.
65 Oxford Dictionary of National Biography (Accessed 13 March 2020)
1600info4, sheet 16
Above: A map locating Upper Arley in 1883. The Littleton' s home was at the site of Arley Castle.
St Peter's Church is south-west of the Castle.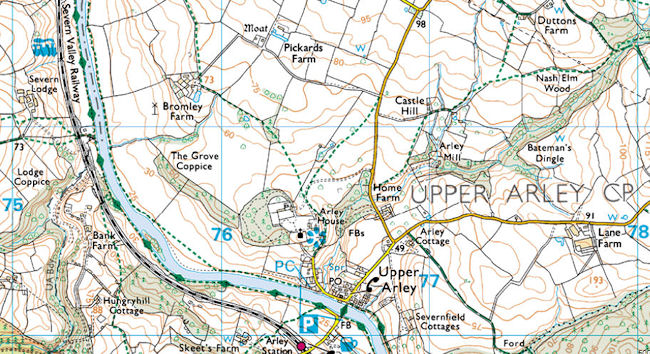 Above: A map locating Upper Arley in 2013, on the banks of the River Severn. Included the moated site at Pickards Farm, mentioned in Thomas Littleton's will
1600info4, sheet 17
Heston Manor
Catherine brought to the marriage Heston Manor built on the site of the Priory, then in the county of Middlesex and now in the London Borough of Hounslow. In 1596 the estate of Anthony Roan, an Auditor of the Exchequer, were transferred to Thomas 'Auditor' Crompton, who acquired the house and land. By 1602, the whole property had passed to his son [Sir] Thomas and thence to his daughter Catherine, wife of Sir Thomas Littleton. In 1625 they conveyed this estate to Justinian Povey, another Auditor of the Exchequer. [66] [67]
Westbury Manor (Brackley) NN13 5JR
Laurence Washington […] held [the manor] until 1639, when he conveyed it to Sir Thomas Littleton, bart., whose estate in Westbury was assessed at £300 (£25,064 BofERPI) in1647 as that of a delinquent. [68] His son and heir, Sir Henry Littleton, with his widow Catherine, transferred it in 1650 to Roger Price, senior. [69]
66 VCH: 'Heston', The Environs of London: volume 3: County of Middlesex (1795) , pp. 22-45
67 VCH: 'Heston and Isleworth: Manors', A History of the County of Middlesex: Volume 3: Shepperton, Staines, Stanwell, Sunbury, Teddington, Heston and Isleworth, Twickenham, Cowley, Cranford, West Drayton, Greenford, Hanwell, Harefield and Harlington (1962) , pp. 103-111
68 Delinquent - A name applied by the Parliamentary party to those who assisted Charles I or Charles II, by arms, money, or personal service, in levying war, 1642–1660 - OED See also Sir Thomas Littleton in the English Civil War of 1642-1651
69 VCH: 'Westbury', A History of the County of Buckingham: Volume 4 (1927) pp. 263-267
---
This page was created by Richard Crompton
and maintained by Chris Glass
Version A3
Updated 13 March 2020
---