1817 Info 2b for Martha Crompton
The life of James Robert LOWTHER, Martha's grandson
James Robert LOWTHER
A James Robert LOWTHER was born in the fourth quarter of 1879 (GRO ref: Beverley 9d 97). However, his Canadian Attestation papers record his birth as 10 Aug 1880 and 1880 corresponds to the 1891 census with a variation. He is recorded in the 1891 census - see 1817info2a.
Beckside, Beverley was a place of industry, developed because of the Beverley Beck link to the Hull Canal. There were two coal yards, as shown on the 1850 map.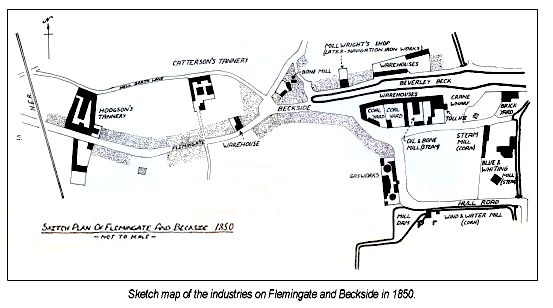 Above: A detailed view of Beckside, Beverley 1850 map, centred on Crane Hill, showing the two coal yards and other industry
Click on the map to open a scalable pdf map in a new window
In the 1901 census one of these belonged to James Lowther. This suggests that on the death of John LOWTHER on 28 May 1896, the coal, brick and tile merchant business was passed to his son John Robert LOWTHER.
1901 Census   Sun/Mon 31st March/1st April 1901
Source:       FHL Film  TNA Ref RG13
              Piece: 4462; Folio: 77; Page: 11; Sched: 85
Dwelling:     Beck Side
Place:        Beverley, Yorks ER, England

Name                   Rel  Mar Age  Occupation                     Status   Birthplace
James Robert Lowther  Head   S   21  Coal & Brick & Tile Merchant  Employer  Yorks, Beverley

John Robert was still in residence, in August 1902, when the Beverley Independent reported at theft from his Beckside House in the coal yard.
Beverley Independent, Saturday 16 August 1902, page 5
At the Guild Hall yesterday, before the Mayor and Colonel Cussons, a man who gave his name as James Myers (24), and said he belonged to Scotland, was charged with stealing a pie from the house of Mr. J. Lowther, Beckside.- Mr. Wm. Oldfield, an employee of Mr. Lowther, who lives in the coal yard, said that about 6-15 yesterday morning he saw prisoner come out of Mr. Lowther's back door. He called to him, but he ran but he ran away, dropping a fruit pie in his flight. Prisoner was detained and brought into custody by PC Knowles. —Mr. J. Lowther, who said he did not wish to press the charge, stated that the door was not locked from the inside, but was closed with a sneck. – Mr Mills observed that to lift a latch of any kind was burglary. – Witness went on to say that there were several articles of food in the dairy – PC Knowles said that when arrested prisoner became violent – Accused admitted the offence and had nothing to say in mitigation. – Supt Knight state that prisoner might have been charged with burglary, but fortunately for him the lesser charge of larceny had been preferred. The bench observed that men of this kind going about were a great danger to householders. He would have to go to prison for six weeks with hard labour.
The second registered Beckside coal merchant was Archibald Stuart, who is to feature in the Lowther coal business. He lives 37 enumerator dwellings from John Robert LOWTHER.
1901 Census   Sun/Mon 31st March/1st April 1901
Source:       FHL Film  TNA Ref RG13
              Piece: 4462; Folio: 80; Page: 17; Sched: 122
Dwelling:     Beckside
Place:        Beverley, Yorks ER, England

Name               Rel  Mar Age  Occupation           Status    Birthplace
Margaret Stuart   Head   S   48  Living on own means            Scotland
Isabella Stuart    Sis   S   46  Living on own means            Scotland
Archibald Stuart   Bro   S   40  Coal Merchant        Employee  Scotland
---
James Robert LOWTHER in Canada
James Robert LOWTHER departed from Liverpool on 28 May 1903, aged 23, bound for Montreal on the SS Bavarian, bound for Montreal. It is assumed he handed the coal business to his sister Rachel Oxley LOWTHER.
Above: A composite image of James Robert Lowther emigration
Click on the image to open a larger pdf image a new window
1
Enlistment in to the Canadian Expeditionary Force
On 01 December 1915, a James Robert LOWTHER, born in York England and a rancher by trade, enlisted into the 1st Canadian Pioneers of the Canadian Expeditionary Force, aged 35 years and 3 months in Victoria BC as number 48755. He quotes his next of kin as his maternal aunt, Miss R OXLEY of General Delivery, Melita, Manitoba. In his will of February 1918 and on his US Border Crossing card of 12 December 1927, he quotes his sister Mrs Rachel Oxley STEWART of 'The Pines', Tadworth, Surrey as the beneficiary. Whilst the OXLEY is his mother's maiden name, his given date of birth is 10 August 1880.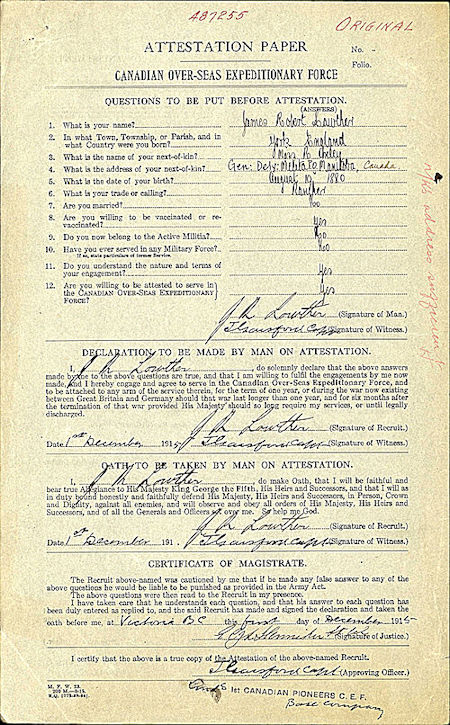 Above: James Robert Lowther's enlistment 2
Click on the image to open a larger pdf image a new window
1817info2b, sheet 2
On 10 January 1916 James Robert arrived in England before being attached to the 9 Canadian Railway Troop on 06 June 1916. He was treated for a gun shot wound to his chest, temple and right buttock on 09 November 1917 in the 2/Australian General Hospital, whilst in France, before being evacuated on the hospital ship Princess Elizabeth circa 19 November 1917. He was discharged from the General Military Hospital, Colchester on 18 January 1918 to the Military Convalescence Hospital Purfleet. It appeared he returned to 9/CRT on 21 February 1918. In February 1919 he was returned to Canada on SS Carmania from Liverpool and discharged from the CEF on 25 February 1919 to the depot at Hastings Park, Victoria, BC, with a clean medical report before moving to the Comrades of Great War, Victoria, BC. 3 This suggest that James Robert was either homeless or needing medical support. 4
---
Back in Canada
The 1921 Canadian census records: 5
1 June 1921
Address: Veterans of France Club, 912 Douglas Street, Victoria, BC
Build type: Stone, brick, wood, brick veneered, plaster+lime, plaster+cement: Brick
Type: Family, household, institution: Institution  Number of rooms: 
Tenure: Owned/rented: Rented; If rented cost per month: $150

Name              Rel. Sex Status Mar Age Place of   Year of       Year of     Nationality  Racial   Speak  Religion  Education can 
                                           birth   immigration  naturalisation              origin   En Fr             Read   Write 
Lowther James RC Serv   M  Roomer  S  40  England     1903           No          Canada     English  Y  Y     CofE       Y      Y    

           Occupation                           Unemployed
Type          Status  Earning  Unemployed Weeks unemployed Weeks sick
Hunter/logger Worker   $600         No          0              0
At the age of 47 years and 2 months James crossed the US border 0n 12 December 1927 bound for Port Angeles in Washington State; a ferry trip across the Salish Sea from Victoria BC. he gives his occupation as miner and hunter and his place of birth as Beverley England. his sister Rachel Stewart (sic) of 31 Grove Road, Bournemouth was quoted as his next of kin. His date of entry into Montreal is given as June 1901 not 1903. 6
James Robert LOWTHER died in Saanich, Victoria, British Columbia on 26 October 1959 aged 78 (Reg no: 1959-09-012315) and was buried in Royal Oak Burial Park Cemetery, Victoria BC, in Plot 1. Memorial ID 230883125 7

Right: James Robert Lowther's headstone
| | |
| --- | --- |
| | Left: The location of James R Lowther's headstone |
---
End notes
Outwards Passenger Lists TNA Reference Number: Series BT27 in Ancestry.co.uk
Attestation papers in Ancestry.co.uk
Library and Archives Canada; Ottawa, ibid
The Comrades of The Great War were formed in 1917 as an association to represent the rights of ex-service men and women who had served or had been discharged from service during World War I. It was one of the original four ex-service associations that amalgamated to form The British Legion

Census of Canada, 1921

Ancestry Canada (Accessed: 14 January 2022)
US Border Crossing from Canada to US Ancestry Canada (Accessed: 14 January 2022)
British Columbia Canada, Death index 1872-1990 in Ancestry Canada (Accessed: 14 January 2022) Photographs with thanks to Anne S, a Find a Grave voluteer.
This page was created by Richard Crompton
and maintained by Chris Glass
Version A4
Updated 18 February 2022