---
---
Arthur Mosey, the eleventh child of Thomas and Margaret was born in the third quarter of 1887 (GRO ref: Driffield 9d 313).
In 1944 Thomas CROMPTON (1863) wrote: 'Arthur m. born 1887 lives in London and is a traveller in paint also a bachelor'. Sometime between 1964 and 1970 Harry CROMPTON, Arthur's nephew, wrote 'Went in to business and was out in America. I think he did a spot of bootlegging & left in a hurry. He died in 1964 in London aged about 78.' His letter from the Hotel Saskatchewan, Regina survived in Harry CROMPTON's papers. Until 2010 Arthur remained an intriguing and enigmatic character.
1901 Census   Sun/Mon 31st March/1st April 1901
Source:       FHL Film  TNA Ref RG13
              Piece 4524 Folio 94 Page 27  Sched 199                       
Dwelling:     'Annandale', 2 Cambridge Street 
Place:        Bridlington, York ER, England

Name                 Rel  Mar Age Occupation      Status   Birthplace
Margaret Williams    Head Wid 54  Retired farmer           Yorks, Barmston
Margaret L Crompton  Dau   U  20                           Yorks, Lowthorpe
Constance E Crompton Dau   U  18                           Yorks, Lowthorpe
Arthur M Crompton    Son   U  13                           Yorks, Lowthorpe
Left: 2 Cambridge Street, Bridlington in 2010

The photograph shows the corner of Quay Street and Cambridge Street. The doors facing are (right to left) numbers 4 and 6. It is believed that the door to number 2 is under the pharmacy shop front.
An Arthur Mosy CROMPTON is recorded in the 1911 census.
1911 Census:      Sun/Mon 2nd April/3rd April 1911
Source:   TNA Ref:        RG14 PN8143  
          Reg. Gen. Ref:  RG78 PNN413  En.Dist: 2 Sched: 18B
          RegDist: Oxford SubDist: Oxford
Dwelling: The Clarendon Hotel, [52] Corn Market Street              
Place:   Oxford, Oxfordshire              
Rooms in dwelling, other than scullery, landing, lobby, closet, bathroom: 60
Years married:          
Children:      Alive , dead none 

Name                  Rel  Mar  Age  Occupation  Status  Birthplace 
Arthur Mosy Crompton  Vis   S   23   Traveller      -    Lincs, Thorp[e] Tilney
1805info2f, sheet 2
This record is included because of the name, age and occupation of the Arthur CROMPTON. However, his place of birth is a mismatch. Thorpe Tilney is near The Wash. There is no Arthur CROMPTON, born 1887 ± 2 in Lincolnshire in the 1891 and 1901 census.

The hotel guests, in the 60 room hotel with a staff of 21, included people of 'independent means', army officers, a solicitor. A hotel of quality.

Right: Clarendon Hotel in 1905. It was built in 1882 and remained a hotel until 1936.
The early Atlantic crossings
Thanks to Diane Carl of Wainwright, Alberta, Arthur's travels in Canada the United States have been revealed.
Above: Arthur CROMPTON's immigration at New York in March 1914 Source: New York Passenger Lists 1820-1957
Click on the image to open an A4 landscape image of 128kB.
This document shows that Arthur M CROMPTON, a single man aged 26 years and 5 months, sailed on the RMS Carmania, from Liverpool, arriving New York on 14 March 1914. He was a [commercial] traveller (now a representative) from Scarborough, England. His next of kin was his mother, Mrs CROMPTON of 55 Westborough, Scarborough. His final destination was given as Vancouver.
1805info2f, sheet 3
Right: Cunard's RMS Carmania

Carmania, built by John Brown & Co. Ltd. on the Clyde in Glasgow, Scotland, was a vessel of 19,524 gross tons, 650 feet long and almost 73 feet wide. She had a capacity for 2,650 passengers, (300 in 1st class, 350 in 2nd class, and 2,000 in 3rd class). She was launched on February 21, 1905. When launched, the Carmania and her sister ship, the Caronia were the largest ships in the Cunard fleet and two of the fastest in the world to compete with the Germans for the Blue Ribband.
The Carmania was powered by the then innovative steam turbine engines, which promised higher speeds, easier maintenance and lower operational costs. On her maiden voyage from Liverpool to New York, on December 2, 1905, Carmania's triple screw Parsons steam turbines proved their worth and turbines became the standard for liners of the future including the Lusitania and also the Mauretania.
Arthur returned from New York to Liverpool on Cunard's RMS Mauretania on 14 July 1914, three weeks before war was declared.
Above: Arthur CROMPTON's UK immigration 14 July 1914 Source: TNA BT26/581/35
Cunard's RMS Mauretania was a legend: she was renowned and acclaimed as the largest, the fastest, and the most opulent liner of her time; one of the most enduring symbols of reliability on the North Atlantic.
The Tyneside firm Swan, Hunter and Wigham Richardson Ltd. laid the keel down in 1904 as a quadruple screw ship driven by direct-drive steam turbines. The diameter of the propeller blades was slightly larger and the turbines were fitted with more rows of blades, giving the Mauretania a slight edge over the Lusitania.
1805info2f, sheet 4
Right: RMS Mauretania



On the 22nd October 1907 the 31,988 ton Mauretania departed the Tyne for Liverpool and delivery to the Cunard Line. Her maiden voyage was on the 16th November 1907. In September 1909 the Mauretania claimed the Blue Ribband for the fastest westbound crossing, a record she retained until July 1929. After a refit and a fatal fire in January 1914, the ship was not ready to rejoin the Atlantic service until March 1914, four months before Arthur's voyage.
Arthur at War
At this moment it appears that Arthur CROMPTON's service record belongs the 'Burnt Records', having been destroyed in the 1940 Blitz, His photograph shows he was a corporal in the Royal Engineers. There is no indication as to when he enlisted or where he served. The Medal Index card gives no indication of Albert being awarded the 1914-1915 Star, suggesting he didn't serve overseas until after 1 January 1916.
Right: A studio photograph, by Brigham of Scarborough, of 122468 Corporal Arthur CROMPTON RE in World War 1, wearing a soft peaked trench cap.
Source: Family photograph

Below: Arthur CROMPTON's Medal Index Card, which gives little detail apart from his rank and unit
Source: TNA WO 372/5
---
1805info2f, sheet 5
The paint salesman
Arthur was probably demobbed in 1919. Transatlantic crossings continued after the War. By the 29 May 1920 Arthur was crossing the US border, from Canada, at Buffalo in New York State.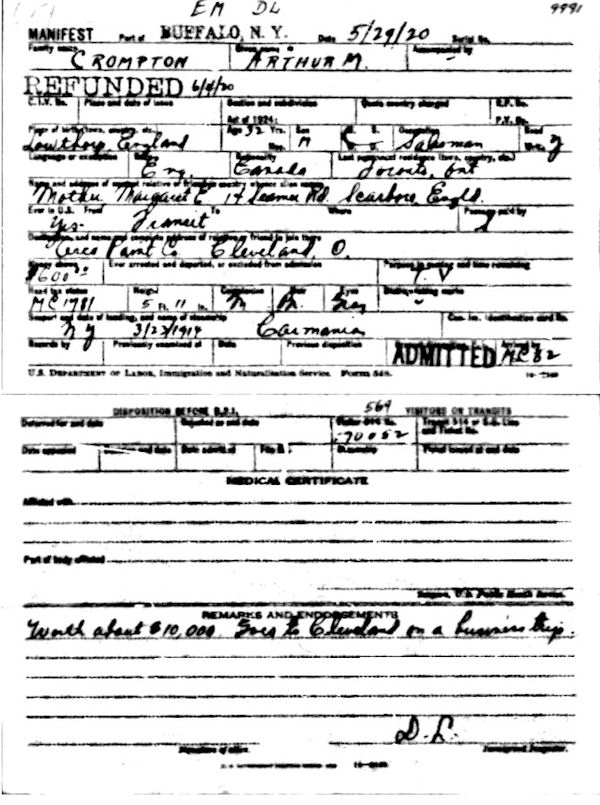 Above: Arthur CROMPTON's US border crossing card from Buffalo dated 29 May 1920
Source: Border Crossings From Canada to the US 1895-1956 #9991
The additional information lists Arthur M CROMPTON age 32, born circa 1888, in Lowthorp (sic) Eng[land], arriving Buffalo, N[ew] Y[ork]. He was 5 ft 11 inches (1.8m) high, with a m[edium] complexion, eyes grey and brown hair. He was a salesman in transit, working for Arca (Arcs) Paint Company, Cleveland, Ohio and was carrying $600 and worth $10 000.
1805info2f, sheet 6
Even though the card states he was admitted to the US there are, however, anomalies on the card.
Although his mother Margaret E [CROMPTON/Williams] is his contact, there is no record of her living at the given address of 14 Seaman R[oa]d, Scarboro[ugh] England. There is no record of a Seaman Road in Scarborough today nor in the address search for the 1911 census, nor on the 1910 maps of Scarborough West and Central.
He states he has been in the US before and that his date of immigration to N[ew] Y[ork] was 23 March 1914 on the "Carmania", when records show he left USA in July 1914 on the 'Mauretania'.
His transatlantic voyages continued.
In September 1924 Arthur arrived in Quebec, having departed Pittsburgh, Pennsylvania on the ship "Megantic". In answering personal questions, as required by immigration, Arthur answered ''Yes" to the question "Have you ever lived in Canada?" and says he previously lived at 98 Broadhurst Avenue, Toronto(?) and that he first came to Canada, arriving in Quebec, probably Montreal, in March 1914.

This was the same ship used by his cousin Fanny CROMPTON/Nixon on their return to Canada in 1919. She carried 230 first class passengers, 430 second class and 1000 third class.
Above: The White Star Line RMS Megantic of 18474 tons
Google maps shows no Broadhurst Avenue in Toronto, Ontario. However, such an address would account for Arthur's border crossing in Buffalo, New York State. This would be the quickest route to his employees in Cleveland Ohio.
The Canadian Passenger Lists 1865-1935 list an Arthur M. CROMPTON born 1887, in Yorkshire, returning from Pittsburgh to Montreal having left Canada on a holiday. He was single, carrying $200 Canadian and was a salesman by occupation. He said he had previously lived in Canada, first arriving here in March 1914 and that his next of kin in his country of birth was his mother Mrs CROMPTON of 18 Kingswood Avenue, Newcastle upon Tyne. There are numerous border crossings and ship departure arrivals for Mr Arthur CROMPTON during various years as well.
On the 14th August 1927 Arthur again arrived in the UK on the Red Star Line 'Pennland'. It is interesting to note that:
on this manifest Arthur declares living in the USA;
Arthur sailed from New York to Plymouth, which was some way from his destination of Newcastle. Was this his quick exit from USA?
Above: Arthur CROMPTON's immigration to Plymouth on 14 August 1927 Source: TNA BT26/851/117
1805info2f, sheet 7
Built as the Pittsburgh in 1920 for the American Line the ship was bought, in January 1925, by Red Star Line In February 1926, she was renamed Pennland. and ran the Antwerp-Southampton-New York route. In 1935, Pennland was sold to Arnold Bernstein of Hamburg. In 1940, Pennland was refitted as a troop transport and in 1941 she was bombed and sunk during a German air raid in the Saronic Gulf near Athens.

Right: Red Star Line Pennland of 9856 tons In 1927 VA Making was Master
---
Life in the Hotel Saskatchewan, Regina, Manitoba
On 24 May 19129 Arthur wrote from the Hotel Saskatchewan in Regina, Canada to his brother Walter giving some details about his new will and his job. It is presumed that letter was sent to 18 Kingswood Avenue, High West Jesmond, Newcastle-on-Tyne, where Walter lived in 1922.

The firm was Sherwin-Williams Co.

Right: The letter head of Arthur's 1929 letter.
The letter continues ....

Source: Sheila Mellstrom - family letter



It is interesting to note that a branch of the US firm of Sherwin-Williams is currently located at 1530 St. James Street, Winnipeg, Manitoba, R3H CL2. They are still purveyors of specialist paints. A can of Sherwin-Williams paint was used in episode four of series four of the US television series 'Man Men'.

Reference: Sherwin-Williams
As I am now residing in Canada it has been necessary to make a new will

The Royal Trust Co. are the executors & it is made out exactly the same as the last.

The Bank of Montreal is the same concern as the Trust Co. only the latter attend to legal matters. I shall presently transfer my stocks from the Oakland Saving & Trust, (?) to the Bank of Montreal.

I like being in Canada. I am to do special work from West Ontario thro all Manitoba, Saskatchewan & Alberta. A district of 1600 x 400 miles. I shall have to use the firm as my permanent address as I shall always be on the move.

Will in keeping of the Royal Trust Co, Winnipeg. Banking with Bank of Montreal, [426] Portage Avenue Branch, Winnipeg.

AM Crompton
24th May / 29
1805info2f, sheet 8
Arthur stayed at the elegant and legendary downtown Victorian hotel with its 224 guest rooms, including 26 suites and a 1574 sq. ft. Royal Suite.
Regina's aldermen began to lobby the CPR (Canadian Pacific Railways) to build a first- class hotel in order to attract more tourists. The CPR responded in 1927 by building the Hotel Saskatchewan, the fourteenth of the CPR's national chain of hotels. Construction took less than a year and incorporated many of the girders that had been the skeleton of Regina 's ill-fated first railroad hotel, the Chateau Qu'Appelle. The building itself was a Modernist Classical design that incorporated brick and the local Tyndall stone on the outside. The building was as lavish inside as out, featuring vaulted ceilings, marble thresholds, antique furnishings, old world charm and tradition. The site, which became a favourite of royalty and political dignitaries alike, strives to retain its grand reputation: the hotel was once Saskatchewan's only CAA Four Diamond property in international tourist guides. However in 2009, the hotel was demoted to a Three Diamond property, and has yet to regain its previous ranking. In 2010 a single room for one night is CND$200.
Above: Hotel Saskatchewan, 2125 Victoria Avenue, Regina, Saskatchewan circa 1930
| | |
| --- | --- |
| Right: Arthur's bank - The Bank of Montreal, 426 Portage Avenue, Winnipeg in 1932 | |
It is known that Arthur's brother, John Henry CROMPTON, homesteaded near Wainwright, Alberta and that he left there for Australia, the Australian army and his death at Zonnebeke. His name appears on the Wainwright war memorial as a combatant who was killed in World War 1. One wonders how the Canadian Legion knew that John Henry had been killed. Perhaps Arthur, on his travels towards Edmonton called in at Wainwright to see where his brother had farmed.
1805info2f, sheet 9
His return home?
It is thought that Arthur's final Atlantic crossing was in the Cunard White Star 'Aurania' arriving London, from New York and Halifax on 7 March 1933.
Above: A composite image of Arthur CROMPTON's UK immigration 7 March 1933 Source: TNA BT26/1017/1
It is interesting to note that against Arthur's name are the letters 'BNA'. This group of letters appears in one other instance, against another English salesman.
The 13,984 tons Aurania III was built by Swan Hunter & Wigham Richardson Ltd, at Wallsend-on-Tyne and was launched on 6 February 1924 specifically for the Cunard White Star's New York service. It had passenger accommodation for 500 cabin class and 1,200 3rd class. In 1928, after it was refitted to cabin, tourist and third class passengers, the ship switched to the Southampton to Quebec and Montreal route.

Right: Cunard White Star 'Aurania' 1924-42
---
1805info2f, sheet 10
Arthur's death
Arthur died in the second quarter of 1964 (GRO ref: Hampstead 5c 755). His death certificate opens another chapter in Arthur's enigmatic life as a member of the Christian Science religion, which was 'fashionable' in 1964. He was some one who was a Practitioner (healer) and who spent his final days in their respite House where he would be cared for by other Christian Scientist Practitioners. The need for a post mortem suggests he hadn't seen a National Health doctor.
Registration District Hampstead
1964 DEATH in Sub-District of Hampstead North in the Metropolitan Borough of Hampstead
When and
where died
Name
Sex
Age
Occupation
Cause of Death
Informant
23 April 1964
Hawthorne House
Hampstead
Arthur
Mosey
CROMPTON
Male
76
years
199 Gloucester Place
St Marylebone
Christian Science
Practitioner
Acute intestinal obstruction due to carcinoma of recto sigmond junction
Elizabeth A Jameson
Present at death
Hawthorne House NW3
The death certificate lists Arthur's occupation at 199 Gloucester Place, St Marylebone, as a Christian Science Practitioner.

It has been suggested, by Charton Manor (idib) that Arthur may have had 'consulting' rooms at 199 Gloucester Place, where he practiced his physical and emotional healing on fellow Christian Scientists on one of the four floors or basement.

Christian Science

Christian Scientists believe that healing through prayer is possible. Their aim is "to reinstate primitive Christianity and its lost element of healing" which, they believe, was lost after the early centuries of Christianity. Christian Scientists believe that sickness is the result of fear, ignorance or sin, and that when the erroneous belief is corrected, the sickness will disappear. They state that the way to eliminate the false beliefs is to replace them with true understanding of God's goodness. They consider that suffering can occur only when one believes (consciously or unconsciously) in the supposed reality of a problem.
Above: 199 Gloucester Place, Paddington, London
Christian Scientists regard the material world as a kind of consensual illusion, which is due to a misperception of the true spiritual world. Such a misperception can, they believe, be changed by reorientation of thought, or prayer in Christian Science terms. Thus, the illusion can be dispelled, revealing the present spiritual reality. The result is perceived as healing. Source: Wikipedia
1805info2f, sheet 11
Arthur ended his life in the care of his faith, being the responsibility of Elizabeth Jameson, Superintendant of Nursing at Hawthorne House, the Christian Science respite House.
Hawthorne House
'Hawthorne House is not an old building by historic standards. It was built in 1899. It stands on the site of Hampstead village green and was the last house to be built on what is now Hampstead Heath. Tradition has it that Wesley preached underneath the tree that stands inside the entrance gate. The house was built by Baron de Hirach who was a great benefactor of the Jewish faith and was later used for Jewish orphans. ... During the first World War it was used as a hospital for wounded service men.

In the early 1930's a number of Christian Scientist's in London formed themselves into a committee to collect money to establish a nursing home for Christian Scientist's [to] run on a non-profit making basis.

Whilst money was still being collected, a Christian Scientist [Viscount and Viscountess Astor] bought the House [Tudor House] and in 1935 gave it to the Hawthorn Trust to operate as a nursing home. In 1927, however, a Bill had been introduced in Parliament which would require registration and medical supervision of all nursing homes in England and Wales.
Above: A map locating the position of Hawthorne House, near Hampstead Heath, London in 1964, now redeveloped.
Through the efforts of Members of Parliament who were Christian Scientists, an amendment was sought [exempting] Christian Science nursing homes. ... A condition of this exemption was that the nursing home should adopt and use the name "Christian Science House". Hawthorne House opened in 1937, the first Christian Science House in the United Kingdom. ... The house was sold in November 1987 and the Trust relocated to Charton Manor, [Kent]. Charton Manor is now registered as a "care home not providing medicines or medical treatment"''. Source: Charton Manor
The House continued to remain outside the 'system'. In 1948 Mr Bevan reported to the Hose of Commons that Hawthorne Christian Science House, Hampstead was excluded from the National Health Act. Source: Hansard, House of Commons Debate 25 March 1948 vol. 448 cc3319-20
A House of Lords debate on 24 March 1988, reported in Hansard, accounts for the location of Hawthorne House, its closure and relocation to Charton Manor. In the Hampstead Radio Station Bill [H.L.] debate a 52m radio mast, for the London Fire Brigade and ambulance service communications, in the area of Hampstead Heath known as the Triangle, was to be erected. This was close to Whitestone Pond and the grounds of Queen Mary's Hospital [maternity home]. Lord Jay described 'the Shrubbery or Triangle site in these documents, [as] now planted with flowering shrubs surrounded by a light fence and includes the present simple and specially designed radio mast.'
Objections were raised by the residents of Hampstead Heath. Baroness Stedman reported that the third petitioner was
'Hampstead Heath Ltd., ... the developer concerned with demolition and rebuilding on the site of Hawthorne House. In order to enable demolition and development to continue while the fire authority works are also going on, the fire authority proposes to acquire a temporary site (and the powers to close part of the road adjacent to Hawthorne House) for dumper trucks, materials and so on for fire authority works, and to provide access for materials and equipment for the Hawthorne House redevelopment. ... When the work is completed the site will be landscaped entirely at the fire authority's expense to meet the wishes of Camden Council. In my view the restoration work would be a vast improvement on the present rough area of land and would enable proper provision to be made for a bridle path and real public enjoyment.' Source: Hansard, 24 March 1988
1805info2f, sheet 12
Postscript
What of his reputation suggested by the family reports? It cannot be guaranteed that the information gathered today is solely attributed to our Arthur mosey CROMPTON. But, taking comments from family letters and known facts there are constants and some inconsistencies:
His birth year is generally calculated to 1888 with one entry correctly recorded. However since his birth year is calculated from his given age in years, the year of birth will be affected by rounding. If Arthur gives his age in March 1920 as 32 then he was also 32 on his birthday in the third quarter of 1919, making his birth year 1887.
Whilst the name Arthur CROMPTON is used once, the other references include his middle initial as Arthur m CROMPTON, or AM CROMPTON.
With two exceptions these names are linked to a known UK family address. The use of Seaman Road, Scarborough and his birth place in the 1911 census remains a mystery.
In one instance he gives the correct forename and initial of his mother and in the second her surname by her first marriage.
His occupation as salesman or [commercial] traveller is a constant. His handwritten letter from the Hotel Saskatchewan confirms his occupation and links it specifically to the paint trade.
Both the companies he represented were US based giving him reasons to make frequent crossings of the US/Canadian border. Since this was at the time of US prohibition (18th Amendment date January 1919, implemented 16 January 1920 and the partial repealed 22 March 1933, the year Arthur left North America) there were opportunities for a spot of bootlegging.
His Buffalo immigration document quotes his 'worth [of] about US$10 000'. In 2010 this would have an equivalent buying power of US$114,258.73 Source: DollarTimes Inflation Calculator or CND$116,442.62 or £72,172. Such wealth may account for his ability to stay at the Hotel Saskatchewan and to make multiple crossings of the Atlantic. Is this the income of a paint salesman?
His travels suggest he was a person of some affluence. His occupancy of Oxford's Clarendon Hotel in the 1911 census asks whether this was real wealth or 'show' wealth for the benefit of his Oxford customers. He chooses modern liners and travels tourist (2nd class).
Why he 'left in a hurry' is still unresolved. Was this his Plymouth voyage or his final return?
I am left with the personal impression that Arthur was an entrepreneurial opportunist.
With thanks to Diane Carl of Wainwright, Alberta for her research.
---
---